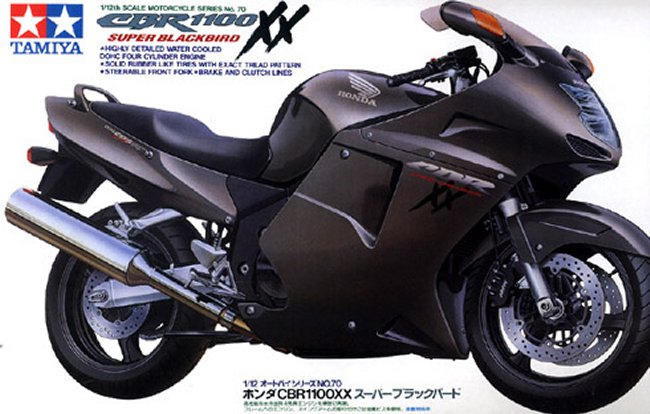 This model kit from Tamiya is available directly from Lucky Model.com.
About the Honda CBR 1100XX Super Blackbird
Unveiled to the public in 1996, Honda's CBR 1100XX "Super Blackbird" has brought the leading edge of motorcycle technology to a new height. Even though it provides and awesome 165 horsepower output and a top speed exceeding 300km/h, this super sport bike is not just about muscle. Its sleek, bullet-nosed wedge shape styling was the result of the extensive wind tunnel testing. This distinctive "piggy-back" combination headlights allow the Super Blackbird to have an extremely narrow frontal aspect. The cowling, with purposefully sculptured air intakes and outlets, contribute to achieve better aerodynamics, whilst providing comfort and wind protection for the rider.
At the heart of the Super Blackbird lies the 1,137cc, liquid cooled inline four cylinder engine which is compact and light in weight. By incorporating a dual-shaft balancer system, this powerful unit revs up very smoothly, and annoying secondary vibration is virtually eliminated. Thanks to the low vibration, the engine is directly bolted to the dual-spar, triple box section aluminum frame without using rubber mounts, obtaining even further overall rigidity. The entire lightness, and excellent suspension system enable it to have outstanding agility and maneuverability. Positive stopping power is obtained through Honda's Dual-Combined Brake System, which actuates the front and rear brakes by either pulling the hand lever or pressing the foot pedal. The CBR 1100XX Super Blackbird has undoubtedly set new standards in every aspect of large displacement sports motorcycles.
This is another in Tamiya's line-up of highly detailed 1/12 motorcycle model kit that includes much detail including full engine detail. This kit contains multiple sprues of parts with some of the sprues being pre-painted to speed up the build process. specifically the silver parts are pre-painted (brake rotors etc). The tires are rubber.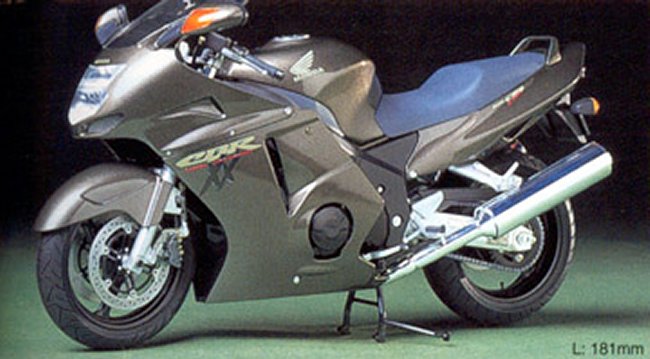 These 1/12 Tamiya motorbike kits really can be beat and the Black Bird has got to be one of the coolest Honda Sports bikes ever made.
This model kit is available directly from Lucky Model.com
Lucky Model.com is an online hobby shop that prides itself in it's well deserved reputation among the modelling community for excellent service and a wide selection of products.
Go to this link to buy this item
Steve Bamford