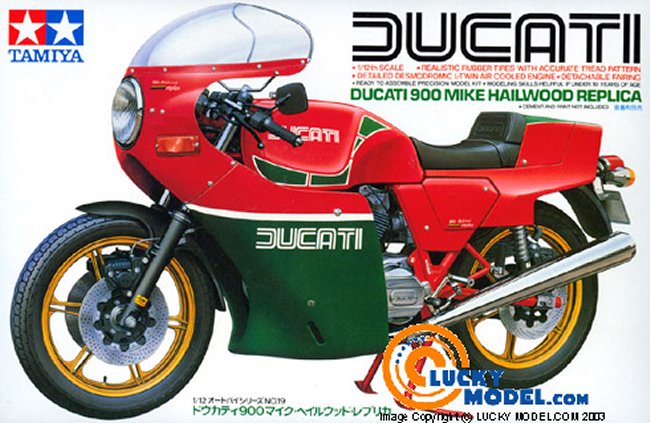 This new model kit from Legend Productions is available directly from Lucky Model.com.
About the Ducati 900 M. H. Replica
When motorcycle racing fans think of races, they think of the World Grand Prix, The World Motocross Championships, or World Endurance Championships; however, there is another popular race called the Tourist Trophy (T.T.) Race. This is a true road race, held on the Isle of Man every year since 1907. The Isle is located between the United Kingdom and Ireland and the course runs 60km over the island. Up and down mountains, through villages and towns all on the common road system of the Island. The racer actually tours the Island during competition, hence the races name "Tourist Trophy Race". Many famous competitors and machines got their start with the T.T. race over the years, but none of the fans will forget the 1978 T.T. race. That is the year that the great Mike " Mike the Bike" Hailwood came out of retirement to race one more time. Mike Hailwood had already won 9 World Championships and 76 Grand Prix's prior to retiring from motorcycle competition. He went on to race Automobiles and F-1 racers, but broke his ankle in 74, so was out of competition again. His miraculous come-back to motorcycle racing and the winning of the 1978 Tourist Trophy will stand out as a fantastic achievement for years to come. Mike rode a Ducati bike during this race and to commemorate the event this famous Italian motorcycle firm released a super sport "Mike Hailwood Replica" in 1980.

Based upon the popular 900SS Ducati, but with full cowl and painted in the red and green of the Italian team, and with the single riders seat. Engine is a 90 degree V twin of 863.9cc which produces 63hp and can propell this bike to a maximum speed of 222km/h. This engine is said to be symbolic of Ducati, and in particular its valve system. On the normal 4 cycle engine, valve opening is done with a cam and closing by return spring. At high RPM's this system can contribute to "valve float". Ducati's system, called "Desmodromic", was designed by their engineer F. Taglioni in 1954, and uses cams to both open and close the valves, which allows for a much higher RPM. The engine is mounted in the diamond frame in an "L" format which is characteristic of Ducati. This compact engine arrangement accounts for the nimble handling and makes the bike competitive with the larger bore Japanese bikes. Standard suspension of double front forks and rear swing arm, plus triple disc brakes rounds out this bike, making it a superlative performer.
This motorcycle kit has realistic rubber tires with accurate tread pattern, detailed desmodromic L-TWIN air cooled engine cowlings that can be removed to show off the engine detailing. Parts are contained on 3 sprues of plastic. One in red for body pats etc, one in great and one in chrome.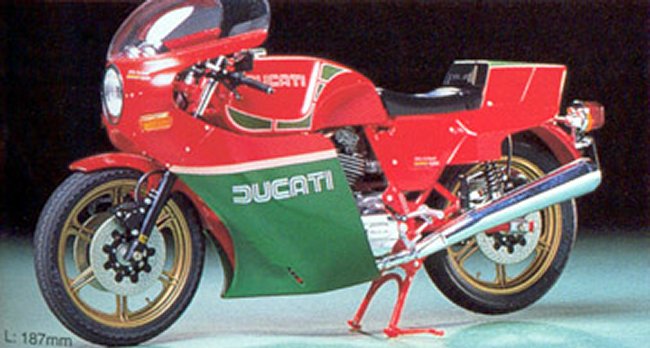 This detail set is available directly from Lucky Model.com.
Lucky Model.com is an online hobby shop that prides itself in it's well deserved reputation among the modelling community for excellent service and a wide selection of products.
Go to this link to buy this item
Steve Bamford