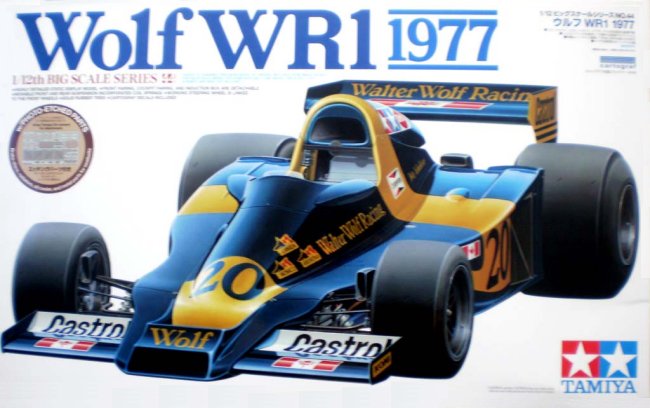 This model kit from Tamiya is available directly from Lucky Model.com.
Walter Wolf Racing was founded in 1977 by Canadian businessman Walter Wolf and his team's WR1 competed from 1977 until the 1978 Monaco GP. Driven by Jody Scheckter, the WR1 won on its debut at the 1977 Argentina GP, which was a great accomplishment as it was the first race for both the team and car. The WR1, created by Hesketh Racing designer Harvey Postlethwaite, was light and considerably compact. Four WR1s were made and designated with chassis numbers WR1-WR4. They were all basically the same but depending on the course, two kinds of wheelbases were prepared. J. Scheckter also won the Monaco and Canadian GPs and claimed 2nd in the 1977 drivers? championship. At the 1977 Japan GP, the WR1 featured Tamiya markings on its induction box. After qualifying in 6th position, the WR1 finished in 11th place, but drew much attention for recording the fastest lap.
Specs & Features - 1/12 scale plastic assembly kit of the Wolf WR1. - Length: 349mm, Width: 164mm, Height: 79mm. - Coil springs are used to mimic the movement of the front and rear suspension. - Steering wheel moves front wheels via rack and pinion system. - The DFV engine, including the fuel pipes, ignition cords, etc. has been accurately reproduced. - Front and cockpit fairings are detachable to show-case the internal mechanisms.-Photo-etched parts are included for various details and seatbelts for a realistic interior. - High-quality Cartograf decals to depict the car from the 1977 Japan GP included. - Synthetic rubber tires included.
You may be required to fold the photoetch in this set, but if you have one of the Hold & Fold photo etch benders from The Small Shop, then this will be an easy process. They have a variety of benders for sharp corners as well as rounded corners and in many different sizes.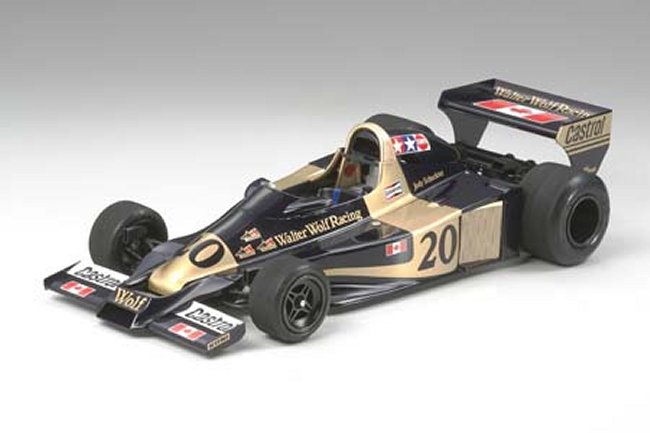 This model kit from Tamiya is available directly from Lucky Model.com.
Lucky Model.com is an online hobby shop that prides itself in it's well deserved reputation among the modelling community for excellent service and a wide selection of products.
Go to this link to buy this item
Steve Bamford