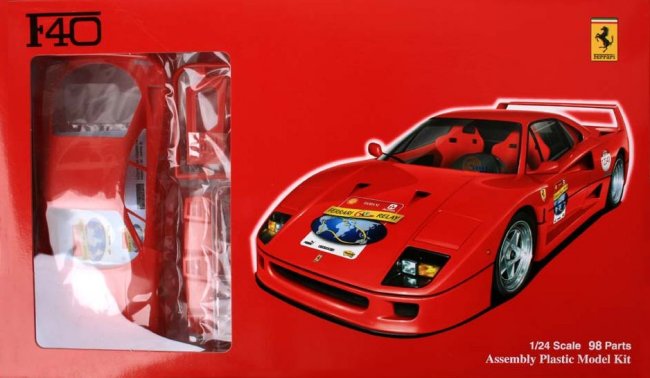 This model kit from Fujimi is available directly from Lucky Model.com.
The Ferrari Model F40 is a mid-engine, rear-wheel drive, two-door coupé sports car produced by Ferrari from 1987 to 1992 as the successor to the Ferrari 288 GTO. At the time it was the fastest, most powerful, and most expensive car that Ferrari sold to the public.

The car debuted with a factory suggested retail price of approximately US$400,000, although some buyers were reported to have paid as much as US$1.6 million. 1,315 F40s were manufactured in total.

The F40's light weight of 1,100 kg (2,425 lb) and high power output of 478 PS (352 kW; 471 hp) at 7000 rpm gave the vehicle tremendous performance potential. Road tests have produced 0–100 km/h (0–62 mph) times as low as 3.8 seconds (while the track only version came in at 3.2 seconds), with 0–160 km/h (0–99 mph) in 7.6 seconds and 0–200 km/h (0–120 mph) in 11 seconds giving the F40 a slight advantage in acceleration over the Porsche 959, its primary competitor at the time.

The F40 was the first road legal production car to break the 200 mph (320 km/h) barrier. From its introduction in 1987 until 1989 its only competitors were the Porsche 959 and the 1988 Lamborghini Countach (it was later overtaken by the Lamborghini Diablo), it held the record as the world's fastest production car, with a top speed of 201.4 mph (324 km/h). During the 2006 Bonneville Speed Week, Amir Rosenbaum of Spectre Performance managed to take his F40 with small boost and air intake modifications to 226 miles per hour (364 km/h).
From Wikipedia
This model kit is one of the many models in Fujimi's high quality 1/24 line up and is the perfect choice if you don't feel like taking on Fujimi's big 1/16 Ferrari F40's.
There are many highlights to this kit. First off....it is not a curbside kit although the engine isn't a stand alone intricate engine full of detail. With the big clear plexiglas rear window/engine deck lid.....it is necessary to show some engine detail. The clear sprue includes the windows....including side windows which are a very weird arrangement on the F40......this car was designed to be light weight....so most components are not like regular Ferraris. The seats are one part with molded on 4 point harness. The decal sheet has markings for 1 particular F40 in 60th Anniversary relay markings, but you could also not use those and just build it as your own F40.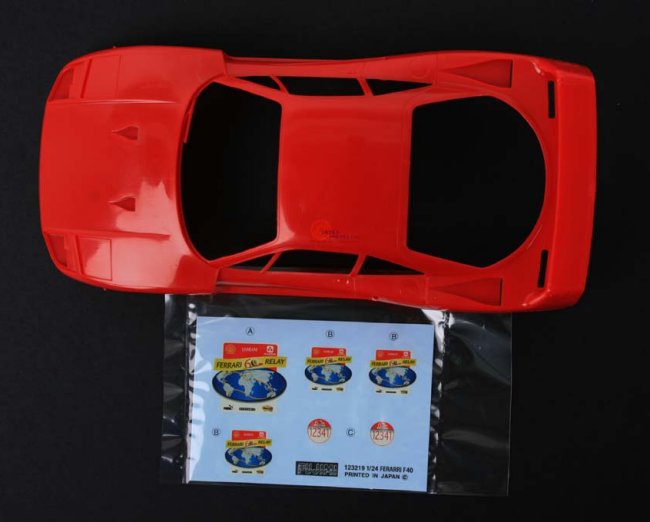 This is a nicely done kit......perfect for the 1/24 modeller. It you really want detail, then step up to the 1/16 Fujimi F40......that kit is loaded with much more detail. And for the crazy people out there.....I have seen 1 modeller combine the 1/16 Fujimi kit with the 1/18 metal body of the Burago diecast F40....giving his a highly detailed metal body kit with plenty of added scratch built detailing.
This model kit is available directly from Lucky Model.com.
Lucky Model.com is an online hobby shop that prides itself in it's well deserved reputation among the modelling community for excellent service and a wide selection of products.
Go to this link to buy this item
Steve Bamford