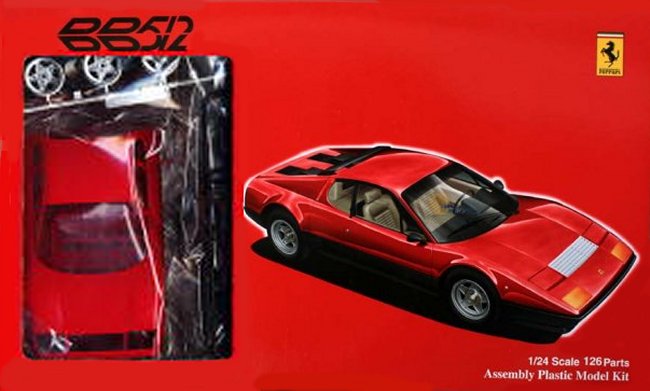 This model kit from Fujimi is available directly from Lucky Model.com.
History
A Ferrari Berlinetta Boxer is one of a series of cars produced by Ferrari in Italy between 1973 and 1984. They used a mid-mounted flat-12 engine, replacing the FR layout Daytona, and were succeeded in the Ferrari stable by the Testarossa. It was designed by Leonardo Fioravanti.

Production of the BB was a major step for Enzo Ferrari. He felt that a mid-engined road car would be too difficult for his buyers to handle, and it took many years for his engineers to convince him to adopt the layout. This attitude began to change as the marque lost its racing dominance in the late 1950s to mid-engined competitors. The mid-engined 4-, 6-, and 8-cylinder Dino racing cars were the result, and Ferrari later allowed for the production Dino road cars to use the layout as well. The company also moved its V12 engines to the rear with its P and LM racing cars, but the Daytona was launched with its engine in front. It was not until 1971 that a mid-engined 12-cylinder road car would appear.

No BB was ever originally sold in North America, as Enzo did not believe it to be worth the cost of federalizing. However, third parties made conversions, and quite a few of them are now in the United States.

The 365 GT4/BB was updated as the BB 512 in 1976, resurrecting the name of the earlier Ferrari 512 racer. The engine was larger at 4942cc, had an increased compression ratio of 9.2:1. Horse Power was slightly down to 360 and a new dual plate clutch to handle the added power, torque and ease the pedal effort. Dry sump lubrication was used to prevent oil starvation in hard cornering due to revised rear suspension, wider wheels and wider rear tires. External differentiators included a new front spoiler, wider rear tires, added NACA side air vents ducting air to the brakes, four tail pipes and four tail lights (instead of six).

929 BB 512 models were produced.
From Wikipedia
This model kit is one of the many models in Fujimi's high quality 1/24 line up. It includes:
main body of car in red styrene

sprue of red styrene with other body panels

sprue of sliver painted 5 spoke Ferrari wheels

sprue of clear styrene

sprues of gray/black styrene

1 fret of stainless steel photo etch

1 decal sheet
There are many highlights to this kit. First off....it is not a curbside kit and the fine detail on the boxer flat 12 is captured beautifully. The rear deck lid will lift off to show all the wonderful detail in the engine compartment. The clear sprue includes the windows....including side windows which will have to be cut away of you choose to display your finished model with the windows rolled down. The seats are multiple part affairs and in general the interior is very nicely detailed. The stainless steel photo etch contains interior mirror and side mirrors, prancing horse Ferrari emblem for the rear, disc brake rotors, one large wiper blade/arm and a few other parts including 2 different sized rear license plates. The decal sheet has some interesting features as well that caught my eye. You get the 4 yellow and black prancing horse logos for the side fenders, front hood and center of the steering wheel. You also get 4 license plates (2 in each size) with the script "Ferrari BB512" plus you get 2 of the Japanese sized license plate with separate numbers to create your own custom Japanese license plate (obviously geared for Fujimi's domestic market in Japan).
You will be required to fold the photoetch in this set, but if you have one of the Hold & Fold photo etch benders from The Small Shop, then this will be an easy process. They have a variety of benders for sharp corners as well as rounded corners and in many different sizes.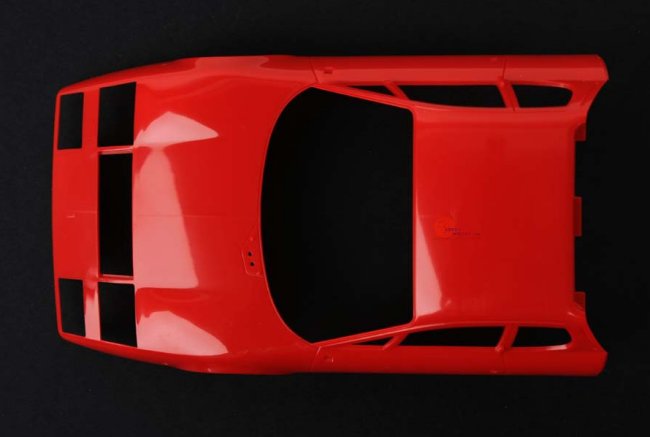 This model kit is available directly from Lucky Model.com
Lucky Model.com is an online hobby shop that prides itself in it's well deserved reputation among the modelling community for excellent service and a wide selection of products.
Go to this link to buy this item
Steve Bamford