This multi-media model kit from Model Factory Hiro is available directly from Lucky Model.com
This is a highly detailed resin and metal kit of the classic Ferrari 512M SUNOCO. This model kits includes full engine/transmission detail as well as a full tube frame sub assembly to hold the engine compartment components. The brakes include rotors and calipers and full suspension and steering rod detail. You also get wiring for the engine compartment.
The decal options include car # 6 that raced at Daytona and car #11 that raced at Le Mans.
You may be required to fold the photoetch in this set, but if you have one of the Hold & Fold photo etch benders from The Small Shop, then this will be an easy process. They have a variety of benders for sharp corners as well as rounded corners and in many different sizes.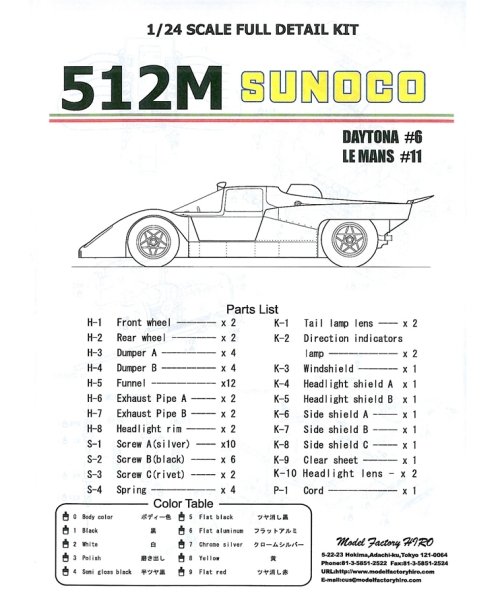 Model Factory Hiro are famous for their highly detailed multi-media model kit and detail sets.
Lucky Model.com is an online hobby shop that prides itself in it's well deserved reputation among the modelling community for excellent service and a wide selection of products.
Go to this link to buy this item
Steve Bamford