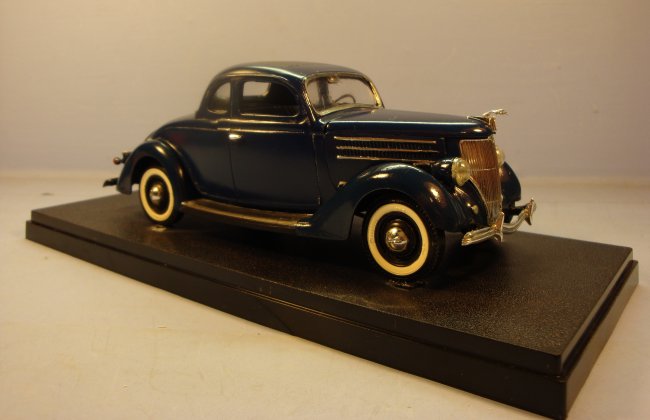 This is the classic '36 Ford kit from AMT done up as a factory-stock model. I built it some years ago, and can't recall all the details of the project other than that the fender unit, tires, engine and chassis were originally part of a resin conversion I attempted back in the late '90s shortly after returning to car modeling. I "salvaged" the best of that earlier build, replacing the resin Tudor body with the injection-molded coupe components, and added a few highlights to the trim and bright work.
The entire model was painted Polly Scale Prussian Blue, a pretty fair substitute for Ford Washington Blue. The original fender unit had been hand-brush painted, but the upper body was airbrushed. It could be considered a tribute to my skill at hand-finishing, or merely my sheer dumb beginner's luck with the airbrush, but there is a very nice overall consistency in the paintwork on the end product.
Bare Metal Foil was applied to the trim on the hood side skirts. I borrowed the factory-stock greyhound hood ornament from an AMT/Ertl '34 Ford coupe kit. Period-correct tires—or, at least as close as I could get to period-correct—were Modelhaus resin products. The 1936 Iowa license plate came from a sheet of photo-reduced plates sold by Preston's Car Parts.
Cheers
Jerry Hawhee (Old Blind Dog)