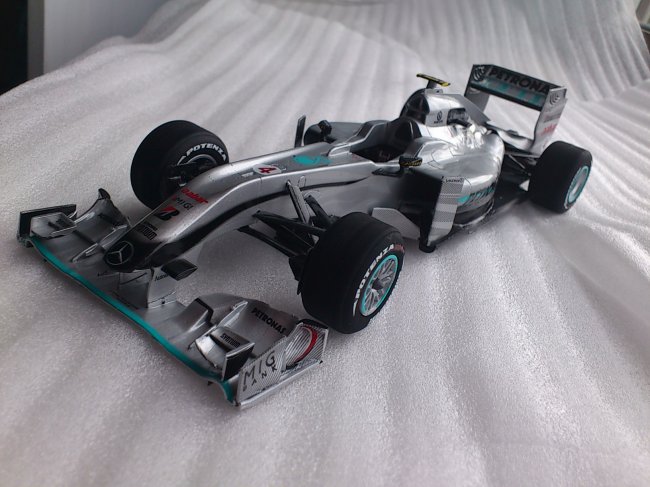 Monopost is one of the smaller Japanese manufacturers of resin F1 cars. This is their rendition of the Mercedes MGP W01, as raced in the 2010 Formula One World Championship by German drivers Michael Schumacher and Nico Rosberg. The kit is made of resin, white and etched metal, and rubber tyres.
The kit is a typical example of the types of resin F1 cars now coming out of Japan – short run, with some deficiencies, but relatively simple thanks to a lack of engine detail. The kit went together fine, as long as you remember the rules of working with resin. The kit comes without seatbelts, so these were sourced from a Model Factory Hiro set. The decals were problematical, however, being quite thick and reluctant to move once on the model. The placement instructions are also a bit on the vague side, and there are a few which just didn't fit at all. Carbon fibre decals are provided, in (more or less) the correct shape for the components, but oddly they only cover the upper surfaces – so, for example, the undertray has decals for the top surfaces, but nothing for the undersides. The model is mainly painted with colours from the Zero Paints range from www.hiroboy.com – in this case the paint is specifically designed to match the actual colour of the Mercedes W01, which was sealed with Zero Paints own brand of top coat.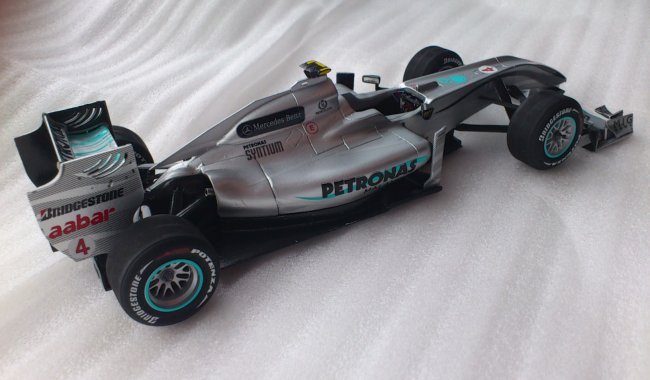 The 2010 season wasn't a good one for Mercedes, with their best result being three third places for Rosberg, and the legendary Schumacher could only muster a best finish of fourth place (also three times) on his return to F1. The car is finished as it appeared in the Malaysian Grand Prix, where Rosberg came in third, whilst a loose wheel nut caused Schumacher to retire from the race. Overall, I'm pleased with the outcome, although the 1/24 Revell kit of the same car is easier to build and is much, much cheaper!
Vince14