Modelerís was a Japanese company which made a selection of Formula One cars in both injection plastic and resin during the 1990ís. This is their rendition of the Minardi M198, as raced in the 1998 Formula One World Championship by Esteban Tuero (Argentina) and Shinji Nakano (Japan). The kit is made of resin, white and etched metal, and rubber tyres.
The kit is a typical example of earlier resin F1 cars Ė short run, with some mould deficiencies, but relatively simple thanks to a lack of engine detail. The kit went together OK, with lots and lots of dry-fitting, fettling and cursing along the way! The kit comes without seatbelts, so these were sourced from a Model Factory Hiro set. The decals were on the thick side and quite troublesome, but in the end it all came out fine. The model is mainly painted with colours from the Zero Paints range from www.hiroboy.com Ė in this case the paints are for the Honda RC211V Telefonica Movistar motorbike! Iím a big fan of Zero Paints, theyíre airbrush ready and go down fine on a good primer, and their own brand top coat is pretty good too.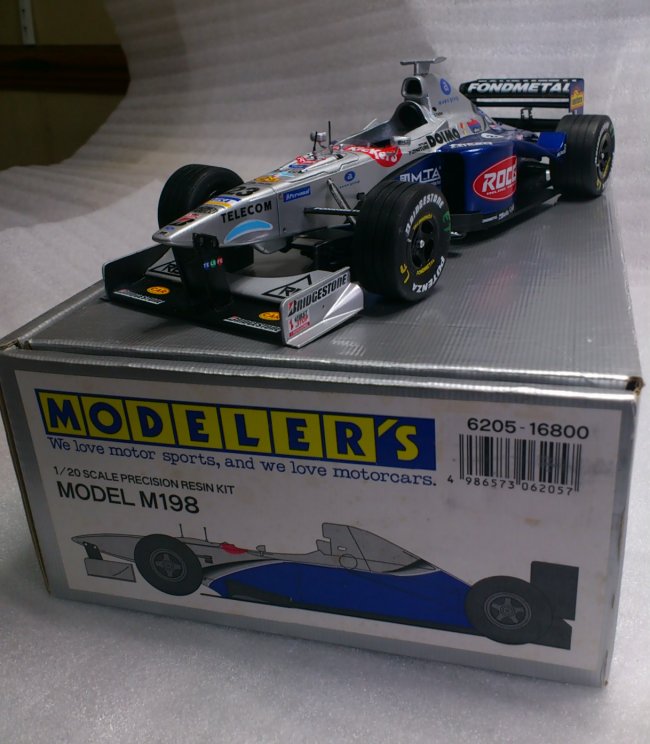 The 1998 season wasnít a good one for Minardi, with their best result being a seventh place finish in Canada for Nakano. Their season is probably best remembered for the flying shunt between Tuero and Tyrrell driver Toranosuke Takagi, the debris from the accident causing Michael Schumacherís Ferrari to get a puncture, handing the World Championship to Mika Hakkinen of McLaren. Overall, Iím happy with my representation of this little-known F1 car.
Vince14