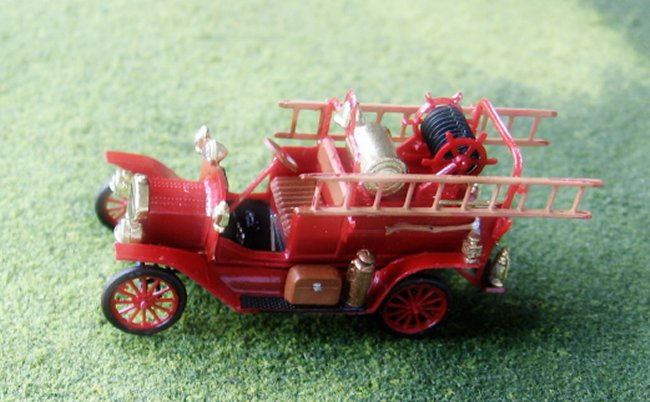 When I opened the package of this kit (which I bought in NYC*) -a 1/87 fire truck to include in my diorama "Do Volkanos Need Fire Departments?"- I was truly surprised by the cost/quality ratio, very, very favorable. More than 40 injection-molded parts, well defined, almost no flash, very good detail. Bear in mind that the scale is even smaller than 1/72, therefore the parts are generally tinier. The sprues were intelligently arranged.
These kits (there are several from the same manufacturer) sell for a reasonable price.
This is, of course, a kit mainly oriented to the railway model enthusiasts' market.
In any case, the model built well, with only minor adjustments needed. The instructions were good, although there are more "written" steps than actual drawings. I think a couple more drawings would help a tad.
I only added MV lenses and a couple of wire items, since the kit's detail is wonderful on itself.
Now, I am too a 1/72 scale model airplane enthusiast; why airplane kit manufacturers can't achieve that level? Why many other kits from a large list of manufacturers are chunky, clunky, badly detailed, have much less parts, and cost much more? Something no doubt Heraclites, Heidegger and Hegel pondered about.
I mean, fellas, look at the sprue photos. Then compare them with the production standards of many of the 1/72 airplane kits you may have in your stash.
Exactly.

Don't worry, is OK to cry. Even tough men can cry for the good reasons.
Have you seen the tiny white metal kits and accessories the train guys have for their dioramas? And their resin kits? How well they are made and how fairly-priced they are? Now now, do not cry again. Here a handkerchief.
See what I mean?

I was told that injected styrene technology could not reproduce this or that, that the sprue gates needed to be that size to produce a good molding, that there were limits beyond which you should do it in resin or white metal, etc etc. That little kit demonstrates that you can. And that was my whole point, that plane kit manufacturers could do a much, much better job. I am tired of wheels that look like shirt buttons because "the media and process don't allow for a more precise molding".
Now the respective channels will continue with their habitual programs.
Good night, and good luck.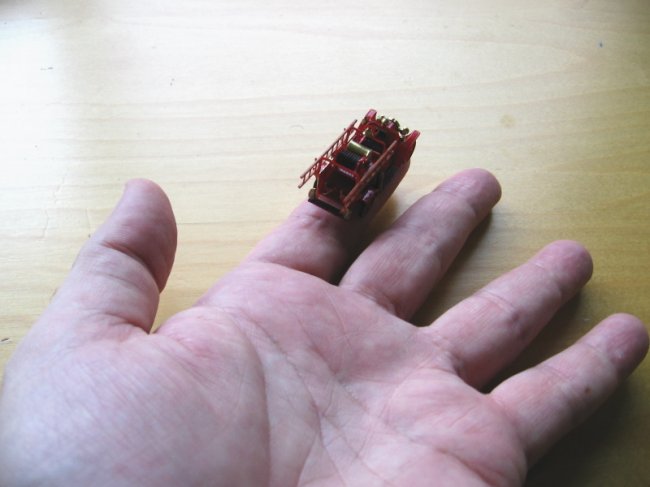 *The place I bought this model is the Red Caboose, in New York City. I highly recommend it to all real hobby enthusiasts that like places crammed with goods, and stores where you go "hunting" for hidden treasures.
The Palos Verdes Run-Arounders
Click on images below to see larger images